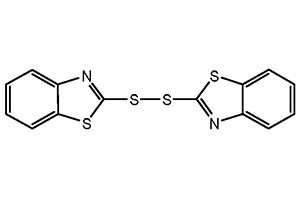 MBTS(DM) | CAS 120-78-5
---
CAS No.: 120-78-5
EINECS No.: 204-424-9
Molecular Formula: C14H8N2S4
Product Information
---
Product Name: 2,2′-Dithiobis(benzothiazole)
Synonyms: Altax; ekagomgs; Thiofide; usafcy-5; Ekagom GS; pneumaxdm; royalmbts; 120-78-5; CAS-120-78-5; MBTS disulfide; Benzothiazyl disulfide; Dibenzothiazyl disulfide; 2,2′-Dibenzothiazole disulfide; Accelerator MBTS; Dibenzothiazole Disulfide; 2-(1,3-Benzothiazol-2-yldisulfanyl)-1,3-benzothiazole; 2,2′-bis(benzothiazolyl)disulfide; 2,2′-Dibenzothiazoledisulfide; 2,2′-dithiobis-benzothiazol; 2-benzothiazyldisulfide; 2-Mercaptobenzothiazole disulfide; Mercaptobenzothiazyl disulfide; 2-mercaptobenzothiazoledisulfide; 2-Mercaptobenzothiazyl disulfide; 2-mercaptobenzothiazyldisulfide; Accel TM; accelerator(dm); AcceleratorDM; acceltm; Benzothiazol-2-yl disulfide; Benzothiazole disulfide; Benzothiazole, 2,2′-dithiobis-; benzothiazoledisulfide; benzothiazolyl; Benzothiazyldisuflide; MBTS
Molecular Weight: 332.50
Specification:
Item
Powder
Oiled powder
Granule
Appearance
Gray-white or light yellow powder(granule)
Initial M.P. ℃ ≥
170.0
170.0
170.0
Loss on drying % ≤
0.30
0.50
0.30
Ash % ≤
0.30
0.30
0.30
Residue on 150μm sieve % ≤
0.10
0.10
\
Residue on 63μm sieve % ≤
0.50
0.50
\
Additive %
\
1.0-2.0
\
Granule Diameter mm
\
\
1.50
Properties: 2,2′-Dithiobis(benzothiazole) is an important derivative of 2-Mercaptobenzothiazole(CAS 149-30-4). Melting point of high purity DM is 186℃ , DM used as rubber accelerator has a melting point about 170 ~ 172℃ . Gray-white or light yellow powder (granule) with a little bitter, no poison. The density is 1.45-1.54. Soluble in chloroform, partly soluble in benzene, ethanol, CCl4, insoluble in gasoline, water and ethyl acetate.
Application:
DM(CAS 120-78-5) is excellent rubber accelerator, which is widely used in rubber industry. Given flat, moderately fast cures in NR and SR. DM(CAS 120-78-5) is also used in a wide range of general purpose rubber.
At the same time DM is a highly reactive drug intermediate, which can be used to synthesize cephalosporin antibiotic precursor benzothiazole.
Non-staining and non-discolouring in "white" socks.
It can be used as a plasticizer and retarder in polychloroethylene rubber.
Secondary acceleration is usually required for synthetic polymers.
Better scorch safety than MBT.
Packaging: 20kg plastic woven bag, paper with plastic film bag, kraft paper bag or jumbo bag.
Storage: Good storage stability. DM(CAS 120-78-5) should be stored in the dry and cooling place with good ventilation, avoiding exposure of the packaged product to direct sunlight. The validity is 2 years.
For more chemical products, you may contact us by sending email.