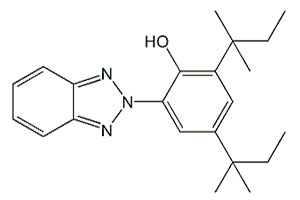 UV Absorber 328 | CAS 25973-55-1
---
CAS No.: 25973-55-1
EINECS No.: 247-384-8
Molecular Formula: C22H29N3O
Product Information of UV Absorber 328 (CAS 25973-55-1)
---
UV-328 is a high efficient and an excellent UV absorber, which can effectively absorb 270-340 nm UV light. Solubility for polymer is good, volatility is little, and its durability to washing is very good. Mainly used for PE, PP, PS, PVC, poly ester and ABS resins, and so on.
Product Name: UV Absorber UV-328
Chemical Name: 2-(2′-Hydroxy-3′,5′-di-tert-pentylphenyl)-benzotriazole
Molecular Weight: 351.5 g/mol
Synonyms: UV-328; Ultraviolet absorbent UV-328
Category: Benzotriazole UV Absorber
Specifications of UV Absorber 328 (CAS 25973-55-1)
Appearance
Light yellow powder
Assay
≥99%
Boiling Point
469.1°C at 760mmHg
Flash Point
229°C
Melting Point
80-88°C
Ash
≤0.1%
Loss on drying
≤0.5%
Volatile matter
≤0.5%
Transmittance
460nm≥97%; 500nm≥98%
Recommended dosage
PS
PE
Polyester
PVC
PC
0.2-0.5%
0.2-0.4%
0.3-0.5%
0.2-0.5%
0.15-0.3%
Packaging
20kg or 25kgs/drum or carton
Properties of UV Absorber 328 (CAS 25973-55-1)
It is soluble in benzene, toluene, styrene, cyclohexane, methyl methacrylate, ethyl acetate, ketones and other organic solvents, insoluble in water.
Applications or uses of UV Absorber 328 (CAS 25973-55-1)
UV-328 is suitable for polyolefin (especially polyvinyl chloride, PE), polyester, styrene, polyamide, polycarbonate, PC, elastomers and other polymers.
For more chemical products, you may contact us by sending email.