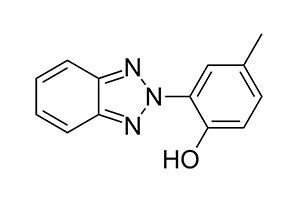 UV Absorber UV-P | CAS 2440-22-4
---
CAS No.: 2440-22-4
EINECS No.: 219-470-5
Molecular Formula: C13H11N3O
Product Information of UV Absorber UV-P (CAS 2440-22-4)
---
UV-P is a benzotriazole type ultraviolet light absorber (UVA), imparting good light stability to a wide variety of plastics and other organic polymers during its using and it is suitable for ABS, PS, Elastomers, Plyesters, PUR, PVC, Polyurethanes etc.
Product Name: UV Absorber UV-P
Chemical Name: 2-(2-Benzotriazolyl)-4-methylphenol
Molecular Weight:  225.246 g/mol
Synonyms: UV Absorber-1; Ultraviolet Absorbent UV-P; UV-P; UV Absorber-P; Drometrizole; 2-(2H-Benzotriazol-2-yl)-p-cresol
Category: Benzotriazole UV Absorber
Specifications of UV Absorber UV-P (CAS 2440-22-4)
Appearance
White to yellowish crystalline powder
Assay
≥99%
Boiling Point
276.1°C at 760mmHg
Flash Point
133.9°C
Melting Point
128-132°C
Density
1.38
Ash
≤0.1%
Loss on drying
≤0.5%
Transmittance
440nm≥98%; 500nm≥99%
Recommended dosage
PVC
PP
PC
PS
ABS resin
0.2-0.5%
0.15-0.3%
0.15-0.3%
0.2-0.5%
0.3-0.5%
Packaging
20kg or 25kg/drum
Properties of UV Absorber UV-P (CAS 2440-22-4)
UV Absorber UV-P  is soluble in gasoline, benzene, acetone and other organic solvents. It has very little solubility in water and is not decomposed by concentrated alkali or concentrated acid. It can ionize synthetic salts with heavy metals.
It is odorless and has good thermo stability under high temperature. Non-flammable, non-explosive, non-toxic, harmless to health.
Applications of UV Absorber UV-P (CAS 2440-22-4)
UV-P is a high-efficiency UV absorber, which can effectively absorb ultraviolet light with a wavelength of 270-380 nm. It almost does not absorb visible light. Stability in transparent articles is better than in colored articles. Particularly applicable to colorless and light-colored products.
It is mainly used for polyvinyl chloride, polystyrene, polyester, polycarbonate, polymethyl methacrylate, polyethylene, ABS, Resin, epoxy resin, cellulose resin, PP, PE, etc.
For more chemical products, you may contact us by sending email.