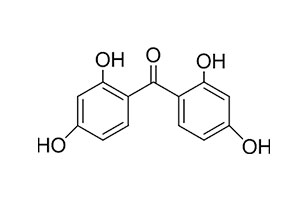 UV Absorber BP-2 | CAS 131-55-5
---
CAS No.: 131-55-5
EINECS No.: 205-028-9
Molecular Formula: C13H10O5
Information of UV Absorber BP-2 (CAS 131-55-5)
---
UV Absorber Benzophenone 2 (BP-2) is dissolved in methanol and ethanol, capable of absorbing the UV radiation of 320-400nm wavelength with the characteristics of light color, nontoxic, good compatibility. Stability of light, heat chemical is better then BP-3(UV-9). It is widely applied to PP, PE, PC, PVC, solar films, stickers, high-end cosmetics, the new high-grade paint and as well as textiles.
Product Name: UV Absorber BP-2
Chemical Name: 2,2′,4,4′-Tetrahydroxybenzophenone
Molecular Weight: 246.22 g/mol
Synonyms: Bis(2,4-dihydroxyphenyl)methanone; Benzophenone-2; Methanone, bis(2,4-dihydroxyphenyl)-; Uvinol D-50
Category: Benzophenone UV Absorber
Storage Condition: Preserve in a well-closed container at low temperature, keep away from moisture, heat and light.
Package: 25kg fibre drum or 10g, 100g, 500g, 1kg/bag, or as customers' request.
Specifications of UV Absorber BP-2 (CAS 131-55-5)
| | |
| --- | --- |
| Appearance | Yellow to brown crystalline powder |
| Solubility | Transparent without insoluble substance |
| Assay (HPLC) | ≥99.0% |
| Melting point | 195.0°C-203.0°C |
| E345 | ≥580 |
| Loss on drying | ≤0.5% |
| Gardner color | ≤3.0 |
| Heavy metals | ≤5 ppm |
| Turbidity | ≤12NTU |
Applications of UV Absorber BP-2 (CAS 131-55-5)
UV Absorber Benzophenone 2 is usually called BP-2, it has wide absorption range, it is suitable for use as a UV-A filter for product protection, particularly for protecting colorants against fading.
It is also frequently used to improve the stability of perfumes to oxidation.
UV Absorber BP-2 is widely used in pharmaceutical intermediates, photographic materials, cosmetic UV protection additives, etc.
UV Absorber Benzophenone 2 is Class I sunscreen approved by the FDA.
For more chemical products, you may contact us by sending email.