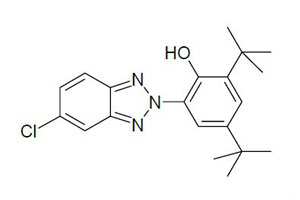 UV Absorber UV-327 | CAS 3864-99-1
---
CAS No.: 3864-99-1
EINECS No.: 223-383-8
Molecular Formula: C20H24N3OCl
Product Information of UV Absorber UV-327 (CAS 3864-99-1)
---
UV-327 is a high performance benzotriazole UV absorber capable of strongly absorbing 300-400 mm of ultraviolet light with a maximum absorption peak of 353 nm. Suitable for PS, PO, PUR, PVC etc.
Product Name: UV Absorber UV-327
Chemical Name: 2-(2′-Hydroxy-3′,5′-di-tert-butylphenyl)-5-chlorobenzotriazole
Molecular Weight:  357.88 g/mol
Synonyms: ULTRAVIOLET ABSORBENT UV-327; UV-327
Category: Benzotriazole UV Absorber
Specifications of UV Absorber UV-327 (CAS 3864-99-1)
Appearance
Yellowish crystalline powder
Assay
≥99%
Boiling Point
492°C at 760mmHg
Flash Point
234°C
Melting Point
154-157°C
Ash
≤0.1%
Loss on drying
≤0.5%
Transmittance
460nm≥95%; 500nm≥97%
Recommended dosage
ABS resin
PE
PP
PVC
0.3-0.5%
0.2-0.4%
0.3-0.6%
0.2-0.5%
Packaging
20kg or 25kgs/drum or carton
Properties of UV Absorber UV-327 (CAS 3864-99-1)
UV-327 has a large solubility in solvents such as benzene, toluene, styrene, methyl methacrylate, cyclohexane and plasticizers. Slightly soluble in alcohol, ketone, insoluble in water.
With good thermo stability, low volatility, good intermiscibility with the polyolefin.
Not sensitive to metal ions.
Non-flammable, not explosive, non-toxic, safe and harmless to use.
Almost no absorption of visible light, especially suitable for colorless transparent and light-colored products.
The camera stability is good, has a strong absorption of ultraviolet light.
It does not change yellow under alkaline conditions and is resistant to oil.
Low volatility, less loss during processing.
Good thermal stability, it can be used for plastic products requiring high temperature processing.
Applications of UV Absorber UV-327 (CAS 3864-99-1)
UV-327 is particularly suitable for polyethylene and polypropylene. It can also be used in polyvinyl chloride, polymethyl methacrylate, polyoxymethylene, polyurethane, unsaturated polyester, ABS resin, epoxy resin and cellulose resin. This product has excellent heat-sublimation, heat-resistant washing, gas fading resistance and mechanical properties. There is a significant synergistic effect with the combination of antioxidants. It can improve the thermo-oxygen stability of the product.
Used as a light stabilizer, UV-327 can strongly absorb ultraviolet light of 270-380nm, has good chemical stability, low volatility, and good compatibility with resin. Suitable for polyvinyl chloride, polypropylene, polymethyl methacrylate, unsaturated polyester, epoxy resin, ABS, polyoxymethylene, etc.
UV-327 does not absorb visible light, particularly applicable to colorless and light-colored products.
UV-327 is suitable for polyolefin, PVC, PMMA, POM, PU and ABS resin. This product is particularly suited to polypropylene fiber.
For more chemical products, you may contact us by sending email.