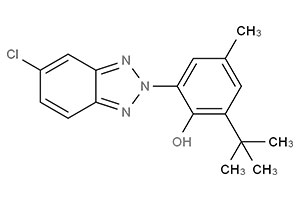 Bumetrizole | CAS 3896-11-5
---
CAS No.: 3896-11-5
EINECS No.: 223-445-4
Molecular Formula: C17H18N3OCl
Product Information of Bumetrizole (CAS 3896-11-5)
---
Bumetrizole is an intermediate reactant in the synthesis of UV light absorbers for polyester fibers. It is a high efficient UV absorber, which can effectively absorb 270-380 nm UV light.
Product Name: UV Absorber UV-326
Chemical Name: 2-(2′-Hydroxy-3′-tert-butyl-5′-methylphenyl)-5- chlorobenzotriazole
Molecular Weight: 315.8 g/mol
Synonyms: Bumetrizole; ULTRAVIOLET ABSORBENT UV-326; ULTRA-VIOLET ABSORBER UV-326; Light Stabilizer 326
Category: Benzotriazole UV Absorber
Specifications of Bumetrizole (CAS 3896-11-5)
Appearance
Yellowish crystalline powder
Assay
≥99%
Boiling Point
460.4°C at 760mmHg
Flash Point
232.3°C
Melting Point
137-142°C
Ash
≤0.1%
Loss on drying
≤0.5%
Transmittance
460nm≥93%; 500nm≥96%
Recommended dosage
PVC
Polyolefin
ABS
0.2-0.5%
0.2-0.5%
0.3-0.5%
Packaging
20kg or 25kgs/drum or carton
Properties of Bumetrizole (CAS 3896-11-5)
It is odorless, good thermo stability under high temperature. Not stained in alkali,and oil resistant.
Applications or uses of Bumetrizole (CAS 3896-11-5)
UV-326 is an important ultraviolet absorber of Benzotriazole series. With the advantages of stable, nontoxic, higher absorbency for ultraviolet ray, it is widely used in photosensitive materials such as color film, color paper and polymer, outer protective coating and many fields.
This product almost does not absorb visible light, particularly applicable to colorless and light-colored products.
Mainly applied to polyolefin (especially in food grade products), PVC, PA, ABS resin, AS resin, PU, etc.
For more chemical products, you may contact us by sending email.