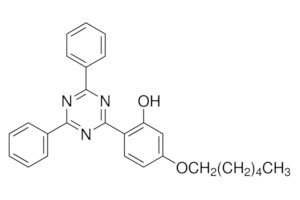 UV absorber 1577 | CAS 147315-50-2
---
CAS No.: 147315-50-2
EINECS No.: 411-380-6
Molecular Formula: C27H27N3O2
Product Information of UV Absorber 1577 (CAS 147315-50-2)
---
Product Name: UV-1577
Synonyms: 2-(4,6-Diphenyl-1,3,5-triazin-2-yl)-5-[(hexyl)oxy]-phenol; TINUVIN 1577; eversorb 41FD
Molecular Weight: 425.52 g/mol
Appearance: Yellow powder
Purity: ≥98%
Melting Point: 147-151°C
Loss on Drying: ≤0.5%
Ash: ≤0.1%
Transmittance: 450 nm≥86.5%, 500 nm≥99%
Package: 25 kg/drum
Category: Triazine UV Absorber
Application of UV-1577 (CAS 147315-50-2)
UV-1577 as a triazine type UV light absorber has the specific of low volatility, high molecular weight, high temperature resistance and low volatility. It has good compatibility with most polymers, additives and formula resins. It can make polycarbonate and polyester achieve better weather resistance than traditional UV absorbers. Low chelating trend enables it to be used in polymer formulations containing residual catalysts.
UV-1577 is suitable for all kinds of high performance polymers and alloys, such as PET,PBT,PC (linear and branched), polyether ester, PMMA, acrylic copolymers, PA, PS, SAN, ASA, polyolefin, reinforced or not reinforced, filled or unfilled, flame-retardant or non-flame-retardant, transparent, translucent, etc.
Recommended dosage
PS
PC
Polyolefin
Polyester
0.2~0.5%
0.15~0.3%
0.2~0.5%
0.3~0.5%
For more chemical products, you may contact us by sending email.