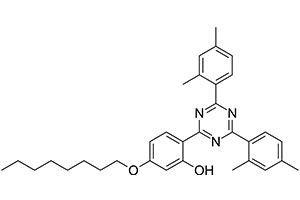 UV absorber 1164 | CAS 2725-22-6
---
CAS No.: 2725-22-6
EINECS No.:
Molecular Formula: C33H39N3O2
Product Information of UV Absorber 1164 (CAS 2725-22-6)
---
Product Name: UV-1164
Synonyms: 2-(4,6-Bis-(2,4-dimethylphenyl)-1,3,5-triazin-2-yl)-5-(octyloxy)-phenol; Cyasorb 1164; PriMesorb 1164; UV ABSORBER-1164; uv absorber uv-1164; Ultraviolet Absorbent UV-1164
Molecular Weight: 509.69 g/mol
Appearance: Light yellow powder
Purity: ≥98%
Melting Point: 89-93°C
Loss on Drying: ≤0.3%
Ash: ≤0.1%
Package: 20 kg/drum
Category: Triazine UV Absorber
Application of UV-1164 (CAS 2725-22-6)
UV-1164 is a triazine type UV absorber with low volatility and good compatibility with polymer and other additives. It has high inherent UV stability, minimal color contribution, high permanence and low interaction with metals.
UV-1167 is suitable for nylon and other engineering plastics, including PVC, PET, PBT, ABS and PMAA as well as other high performance plastic products.
Recommended dosage
PE
PC
ABS
0.2-0.4%
0.15-0.3%
0.3~0.5%
For more chemical products, you may contact us by sending email.