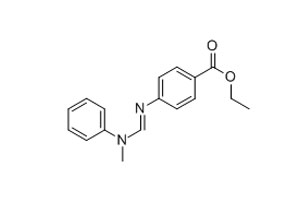 UV Absorber UV-1 | CAS 57834-33-0
---
CAS No.: 57834-33-0
EINECS No.: 260-976-0
Molecular Formula: C17H18N2O2
Product Information of UV Absorber UV-1 (CAS 57834-33-0)
---
Product Name: UV-1 (UV-101)
Chemical Name: N-(Ethoxycarbonylphenyl)-N'-Methyl-N'-Phenylformamidine
Synonyms: Ethyl 4-[[(methylphenylamino)methylene]amino]benzoate; Ultraviolet absorbent UV-1; UV absorber UV-1
Molecular Formula: C17H18N2O2
Molecular Weight: 282.34 g/mol
CAS No.: 57834-33-0
EINECS No.: 260-976-0
Specifications of UV absorber UV-1, CAS 57834-33-0
Appearance: light yellow, sticky liquid
Purity: ≥99%
Water: ≤0.5%
Loss on Drying: ≤0.5%
Freezing Point: ≤5℃
Relative Density: 1.05 g/cm3
Transmittance: 460 nm≥90%; 500 nm≥95%
Package: 25 kg/plastic drum or 180 kg/plastic drum.
Application of UV absorber UV-1
UV absorber UV-1 is an efficient UV absorber and is widely used in polyurethane materials. It is widely used in polyurethane foam, TPU, PU adhesive and other materials because of its excellent absorption effect at 300-340 nm UV wavelength.
For more chemical products, you may contact us by sending email.