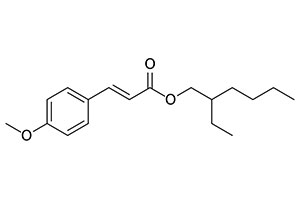 Octyl Methoxycinnamate |      CAS 5466-77-3
---
CAS No.:  5466-77-3
EINECS No.: 226-775-7
Molecular Formula: C18H26O3
Product Information of Octyl Methoxycinnamate (CAS 5466-77-3)
---
Octyl Methoxycinnamate is an organic compound that is an ingredient in some sunscreens and lip balms. It is mainly used in sunscreens and other cosmetics to absorb UV-B rays from the sun, protecting the skin from damage and also used to reduce the appearance of scars.
Product Name: Octyl Methoxycinnamate
Molecular Weight: 290.3972 g/mol
Synonyms: OMC; Ethylhexyl Methoxycinnamate; Octinoxate; Octyl 4-methoxycinnamate
Solubility: Soluble in ethanol, insoluble in water.
Category: Salicylate UV Absorber
Specifications of Octyl Methoxycinnamate (CAS 5466-77-3)
| | |
| --- | --- |
| Appearance | Colorless or light yellow/orange transparent liquid |
| Smell | Slight characteristic odor |
| Assay | ≥98% |
| Boiling point | 198-200 °C |
| Density | 1.009 |
| Refractive index | 1.543-1.547 |
| Flash point | 193 °C |
| Water solubility | <0.1 g/100 ml water(27 °C) |
| Quality standard | USP34 |
| Packaging | 200 kg net per plastic drum |
Properties of Octyl Methoxycinnamate (CAS 5466-77-3)
It is miscible with ethanol, isopropanol, white oil and commonly used lipids, but does not mix with water, propylene glycol and glycerol.
Applications of Octyl Methoxycinnamate (CAS 5466-77-3)
Octyl Methoxycinnamate (OMC) is currently one of the most widely used UV-B oil-soluble UV absorber in the world. The product has excellent safety and approval in the world. It is ideal for use in sun-care and skin-care products for everyday protection. It is suitable for the formulation of sun-protection products.
It is used to prepare skin care cosmetics such as sunscreen (paste, milk, and liquid). It can be effectively absorb ultraviolet rays from sunlight, prevent sunburn on human skin. It is also a therapeutic drug for photo dermatitis. It is industrially used as an anti-aging agent for plastics and inks and as an ultraviolet absorber. Oil-soluble liquid UV-B absorbent can be combined with various sunscreen agents.
For more chemical products, you may contact us by sending email.