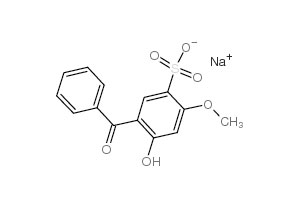 UV Absorber BP-5 | CAS 6628-37-1
---
CAS No.: 6628-37-1
EINECS No.:
Molecular Formula: C14H11NaO6S
Product Information of UV Absorber BP-5 (CAS 6628-37-1)
---
Sodium,5-benzoyl-4-hydroxy-2-methoxybenzenesulfonate (BP-5) is sodium salt of BP-4. It is a water-soluble neutral broad-spectrum ultraviolet absorber with high absorption efficiency, non-toxicity, no teratogenic side effects, good light and heat stability. It can improve the stability of shampoos, body washes and fragrances containing polyacrylic substances. It is mainly used in water-soluble chemical sunscreens, sunscreens and lotions. It can improve the durability of dyed textiles, prevent yellowing of wool textiles and prevent synthetic fabrics. It can be used in hair products such as hair gels and mousses to prevent hair damage and whitening caused by ultraviolet radiation.
Product Name: BP-5
Synonyms: sodium,5-benzoyl-4-hydroxy-2-methoxybenzenesulfonate; benzophenone-5
Cas No: 6628-37-1
Molecular Formula: C14H11NaO6S
Molecular Weight: 330.288 g/mol
Storage Condition: Preserve under tight and light-resistant condition
Package: 25kg fiber drum
Category: Benzophenone
Specifications of BP-5 (CAS 6628-37-1)
| | |
| --- | --- |
| Appearance | Off white to light powder |
| Assay | ≥99.0% |
| Melting Point | 280.0°C |
| Volatiles | ≥2.00% |
| PH | 6.0-6.5 |
| Specific Extinction (1%,1cm) | E287nm≥460; E325nm≥270 |
| Loss on Drying | ≤1.5% |
| Gardner Color | ≤4.0 |
| Heavy metals | ≤5 ppm |
Applications of BP-5 (CAS 6628-37-1)
BP-5 can be used in water borne coatings & paints, as UV curing coating or inks.
BP-5 is suggested to be used in product protection , like conditioning shampoo and body cleanser, preventing colorant fading in transparent packaging, stabilizing the viscosity of gels based on polyacrylic acid (i.e.carbopol) when exposed to UV radiation, improving the stability of fragrance oils.
Hair protection, like hair gels and hair setting lotions, mousses and hair sprays, prevent brittle or bleached hair due to UV radiation.
Sun care, water soluble organic UV filter, like sun protection lotion(O/W).
Textiles , like wool and synthetic fibers.
For more chemical products, you may contact us by sending email.