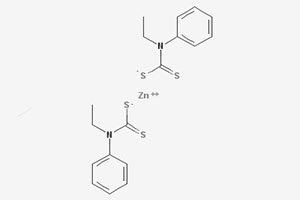 ZnEPDC(PX) | CAS 14634-93-6
---
CAS No.: 14634-93-6
EINECS No.: 238-677-1
Molecular Formula: C18H20N2S4Zn
Product Information
---
Product Name: ZnEPDC(PX)
Chemical Name: Zinc N-ethyl-N-phenyldithiocarbamate
Synonyms: hermatfedk; Nocceler PX; AcceleratorPX; acceleratorefk; vulkacitpextran; Vulkacit II extra N; zincethylphenylthiocarbamate; ZincN-ethylphenyldithiocarta; zinc ethylphenyl dithiocarbamate; zinc, bis(n-ethyldithiocarbanilato)
Molecular Weight: 458.02
Specification:
Item
Powder
Oiled powder
Granule
Appearance
White powder(granule)
Initial M.P. ℃≥
205.0
205.0
205.0
Loss on drying % ≤
0.30
0.50
0.30
Zinc content %
13.0-15.0
13.0-15.0
13.0-15.0
Residue on 150μm sieve % ≤
0.10
0.10
\
Residue on 63μm sieve % ≤
0.50
0.50
\
Additive %
\
0.1-2.0
\
Granule Diameter mm
\
\
1.50
Properties: White powder (granule). No smell, no taste, no poison. The density is 1.50. Soluble in hot chloroform, hot benzene, slightly soluble in gasoline, benzene, toluene, hot alcohol, insoluble in acetone, CCl4, alcohol and water.
Application: An ultra accelerator for NR, SNR, IIR, IR, SBR, NBR, EPOM and their latexes. Better anti-scorching ability when used with DM. Provides the best scorch safety and processing safety in dithiocarbamates. No poison, no pollution, thus can be applied in the manufacturer of food contact materials.
Packaging: 25kg plastic woven bag, paper with plastic lilm bag. kraft paper bag.
Storage: The product should be stored in the dry and cooling place with good ventilation, avoiding exposure, I the packaged product to direct sunlight. The validity is 1 year.
For more chemical products, you may contact us by sending email.