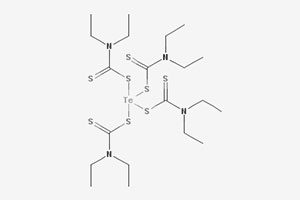 Tellurium diethyldithiocarbamate (TDEC) | CAS 20941-65-5
---
CAS No.: 20941-65-5
EINECS No.: 244-121-9
Molecular Formula: C20H40N4S8Te
Product Information of tellurium diethyldithiocarbamate
---
Product Name: Tellurium diethyldithiocarbamate (TDEC)
Chemical Name: Tellurium Diethyl Dithiocarbamate
Synonyms: ETHYL TELLURAC; Akrochem TDEC; Tellurac; Nocceler TTTE; 20941-65-5; Tellurium IV diethyldithiocarbamate
Molecular Weight: 721
Specification of tellurium diethyldithiocarbamate:
Item
Powder
Oiled powder
Appearance
Yellow powder
Initial M.P.℃ ≥
108.0
108.0
Loss on drying % ≤
0.50
0.50
Tellurium content %
16.5-19.0
16.5-19.0
Residue on 150μm sieve % ≤
0.10
0.10
Residue on 63μm sieve % ≤
0.50
0.50
Additive %
\
0.1-2.0
Physical properties of tellurium diethyldithiocarbamate: Yellow powder. The density is 1.48 g/cm3. Soluble in chloroform, benzene and carbon disulfide, slightly soluble in alcohol and gasoline, insoluble in water.
Application of tellurium diethyldithiocarbamate: Used for super accelerator in natural rubber, styrene-butadiene rubber. In general, using with some other kind of accelerators such as benzothiazole, sulfenamide. A fast velocity at vulcanizing temperature can be obtained, and intension can be increased. Suitable for making inner tube of tires, soft tube, isolating layer of wire and cable, etc.
Packaging: 25kg plastic woven bag, paper with plastic film bag, 25 kg drum.
Storage: The product should be stored in the dry and cooling place with good ventilation, avoiding exposure of the packaged product to direct sunlight. The validity is 1 year.
For more chemical products, you may contact us by sending email.