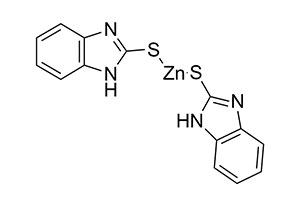 Antidegradants MBZ | CAS 3030-80-6
---
CAS No.: 3030-80-6
EINECS No.: 221-203-2
Molecular Formula: C14H10N4S2Zn
Product Information
---
Chemical Name: 2-Mercaptobenzimidazol zinc salt
Synonyms: 1,3-Dihydro-2H-benzimidazole-2-thione zinc salt, Rubber Antidegradants MBZ
Molecular Weight: 363.77
Specification:
Item
Powder
Oiled powder
Appearance
White powder
Initial M.P. ℃ ≥
240.0
240.0
Loss on drying % ≤
1.50
1.50
Zinc content %
18.0-20.0
18.0-20.0
Residue on 150μm sieve % ≤
0.50
0.50
Additive %
\
0.1-2.0
Properties: Gray white powder. No smell but taste bitter. Soluble in acetone, alcohol, insoluble in benzene gasoline and water.
Application: A non-staining secondary antioxidant for NR, CR, EPR, SBR, NBR, etc. Especially effective against heat oxidation in combination with amine. Could be used alone or combined with the anti-degradants, such as DNR or AP.
Storage: The product should be stored in the dry and cooling place with good ventilation, avoiding exposure of the packaged product to direct sunlight. The validity is 2 years.
For more chemical products, you may contact us by sending email.