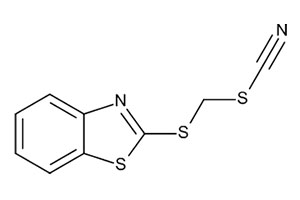 TCMTB | CAS 21564-17-0
---
CAS No.: 21564-17-0
EINECS No.: 244-445-0
Molecular Formula: C9H6N2S3
Product Information
---
Synonyms: (2-Benzothiazolylthio)methyl thiocyanate; Thiocyanic acid (2-benzothiazolylthio)methyl ester; TCMTP
Molecular Weight: 238.34
Appearance: Translucent or transparent sticky liquid with reddish brown color at room temperature.
Assay: 30%, 60%, 80%
Density: (1.13~1.15) g/cm3
Package: 25 kgs/plastic drum
Usage: Biocides, widely used as bactericide for industrial circulating water and industrial cooling water, leather, agrochemicals, making paper, timber, coating and cutting oil. It has special effect on mucedine.
For more chemical products, you may contact us by sending email.