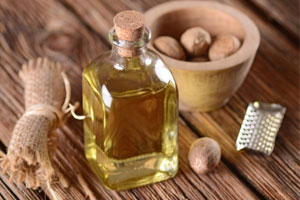 Nutmeg oil | CAS 8008-45-5
---
CAS No.: 8008-45-5
Synonyms: Mace oil; Myristica oil
Product Information of Nutmeg oil
---
Nutmeg is the Myristica, evergreen tree. It is mainly produced in Indonesia, Sri Lanka, Mauritius, India, the United States, the United Kingdom, China's Sichuan and Guangxi. Dry seeds are distilled by steam, and nutmeg oil is obtained. The oil yield is 6%-10%.
Product Name: Nutmeg oil
Synonyms: Mace oil; Myristica oil; myristica fragrans (nutmeg) kernel oil; Absolutenutmeg; eastindiannutmegoil; myristicafragranshouttoil; Nutmegoil,terpeneless; Nutmegshelloil; oilofmyristica; oilofnutmeg; Oils,nutmeg
CAS No.: 8008-45-5
FEMA No.: 2793
Method of Extraction: Steam distilled
Part Typically Used: Seed
Uses: Nutmeg oil can be used in food additive, flavor agent, pharmaceutical intermediates.
Physical and chemical properties of nutmeg oil
Color & Appearance: Colorless or light yellow liquid
Odor: With a characteristic nutmeg aroma
Relative Density: 0.880-0.910
Refractive Index: 1.474-1.488
Dissolving: Dissolved in ethanol
Main components of nutmeg oil
Myristic ether, eugenol, isoeugenol, linalool, geraniol, safrole, borneol, limonene, pinene, etc.
Application of nutmeg oil
As an important food spice, nutmeg oil is used for flavoring and flavoring foods, tobacco, beverages, canned goods, etc.
Recommended dosage: in the final flavoring food, the concentration is about 1-640 mg/kg.
For more chemical products, you may contact us by sending email.