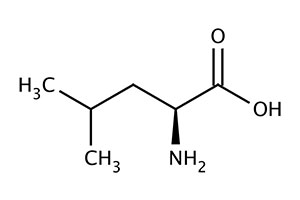 L-Leucine | CAS 61-90-5
---
CAS No.: 61-90-5
EINECS No.: 200-522-0
Molecular Formula: C6H13NO2
Product Information of L-leucine (CAS 61-90-5)
---
L-leucine (CAS 61-90-5) is one of the eighteen common amino acids and one of the eight essential amino acids of the human body. In addition, the molecular structure of L-leucine, L-isoleucine and L-lysine all contain a methyl side chain, so they are called branched chain amino acids (BCAA).
Synonyms: (s)-2-amino-4-methylvalericacid; 1-Leucine; 2-Amino-4-methylpentanoic acid; 2-amino-4-methylpentanoicacid; (S)-2-Amino-4-methylpentanoic acid; L-Leucine 99+ %; H-Leu-OH; L-Leu; L(+)LEUCINE
Molecular Weight: 131.17
FEMA: 3297
Reference standard: FCC,USP
Appearance and physical state: L-leucine (CAS 61-90-5) is white crystals or crystalline powder. It is a nonpolar amino acid. Odorless; mildly bitter flavor.
Usage: Biochemical research, nutrition supplements, pharmaceutical raw material, food additive.
For more chemical products, you may contact us by sending email.