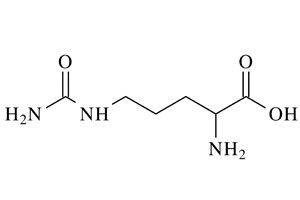 L(+)-Citrulline | CAS 372-75-8
---
CAS No.: 372-75-8
EINECS No.: 206-759-6
Molecular Formula: C6H13N3O3
Product Information of L(+)-Citrulline
---
Product Name: L(+)-Citrulline
Synonyms: L(+)-2-Amino-5-ureidovaleric acid; (S)-2-Amino-5-ureidopentanoic acid
Molecular Formula: C6H13N3O3
Molecular Weight: 175.19
CAS No.: 372-75-8
EINECS No.: 206-759-6
Appearance and Physical State: White powder
Density: 1.289 g/cm3
Water Solubility: Soluble in water
Usage: L(+)-Citrulline can be used in medicine and nutraceuticals.
Related Categories: Amino acids and their derivatives; pharmaceutical intermediates; organic chemicals
L(+)-Citrulline is an alpha amino acid, the name comes from the watermelon that first extracted L(+)-Citrulline. L(+)-Citrulline is produced by ornithine and amino formyl phosphate in the urea cycle or catalyzed by nitric oxide synthase (NOS) to produce arginine. Arginine is oxidized to N- hydroxyl arginine, then oxidized to citrulline and releases nitric oxide. L(+)-Citrulline can relax human blood vessels, enhance male sexual function and treat sexual dysfunction. Maintaining healthy lung function and improving brainpower. L(+)-Citrulline has functions of storing and transmitting brain neurons.
Main effects of L(+)-Citrulline
To improve the function of immune system.
L(+)-Citrulline can maintain the function of joint movement.
Balance the normal blood sugar level.
L(+)-Citrulline helps to maintain the normal level of cholesterol.
Maintenance of healthy lung function.
Improve mental clarity.
Improving the healthy sexual and living function.
Reducing stress and overcoming depression.
For more chemical products, you may contact us by sending email.