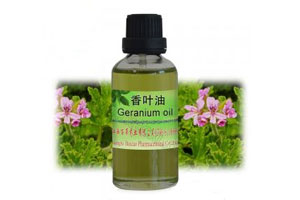 Geranium oil | CAS 8000-46-2
---
CAS No.: 8000-46-2
EINECS NO.: 290-140-0
Botanical Name: Pelargonium graveolens
Product Information of Geranium oil
---
Product Name: Geranium oil
Botanical Name: Pelargonium graveolens
Synonyms: Geranium oil ex Yunnan; geranium oil from pelargonium grave-olens; pelargonium graveolens flower oil; Oils,geranium; pelargoniumoil; OLEUMPELARGONII; GERANIUMROSEOIL; OIL OF GERANIUM; OILROSE-GERANIUM; Caswell No. 618B; GERANIUM OIL FROM PELARGONIUM GRAVE- OLENS, NATURAL; exPelargoniumgraveolens; Geraniumoil-Hixform; Geraniumoil,China; Geraniumoil-HixformAfrica; exPelargoniumgraveolens,Egypt; GERANIUMOIL,ALGERIANTYPE,FCC
CAS No.: 8000-46-2
EINECS NO.: 290-140-0
FEMA No.: 2508
Method of Extraction: Steam Distilled or SFE
Part Typically Used: Leaves & Flowers
Application: Pharmaceutical intermediates, relax oil
Physical and Chemical Properties of Geranium Oil (CAS 8000-46-2)
Color & Appearance: Light green or light brownish-yellow clarified liquid
Aroma: The aroma of rose and geraniol. Sweet, slightly clear, stable and lasting aroma. The newly steamed geranium oil has sometimes a miscellaneous taste, it is the aroma of a small amount of sulphide, which can disappear for a short time.
Relative Density: 0.886-0.899
Refractive Index: 1.464-1.470
Solubility: Instability in strong acid. Geraniol esters and citronella esters are partially saponified in alkaline condition. It is soluble in ethanol, benzyl benzoate and most vegetable oils. It is often milky white in mineral oil and propanediol. Insoluble in glycerin.
Application and Recommended Dosage of Geranium Oil (CAS 8000-46-2)
Geranium oil is one of the most important essential oils in the fragrance industry.
Geranium oil is widely used in the essence of perfume, soap, cosmetics and other daily chemicals.
Geranium oil can also be used to mix edible essence of rose, strawberry, raspberry, grape and cherry.
Geranium Oil can be used in tobacco and wine flavors.
In the final flavor food, the concentration is about 1-10 mg/kg, and the gum can reach 210 mg/kg.
For more chemical products, you may contact us by sending email.