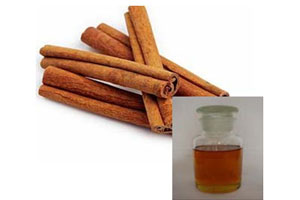 Cinnamon oil | CAS 8007-80-5
---
CAS No.: 8007-80-5
EINECS NO.: 283-479-0
Product Category: Essential oil
Product Information of Cinnamon oil
---
Product Name: Cinnamon oil
Synonyms: Cassia Oil; Cinnamomum cassia leaf oil; artificialcinnamonoil; C.I.Condensesulphuryellow3; cfnnamonoil; chinesecinnamon; Cinnamonbarkoil,Ceylon
Botanical Name: Cinnamomum cassia Presl
CAS No.: 8007-80-5
EINECS NO.: 283-479-0
FEMA No.: 2258
Product Category: Essential oil
Method of Extraction: Steam distilled
Part Typically Used: Bark & leaf
Color & Appearance: Light yellow to reddish-brown liquid
Odor: With a characteristic Chinese cinnamon aroma
Boiling Point: 194-234 ºC
Flash Point: 199 °F
Relative Density: 1.045-1.070
Refractive Index: 1.600-1.614
Storage Temp.: 2-8 °C
Application of Cinnamon oil (CAS 8007-80-5)
Cinnamon oil is used for the flavor essence of toothpaste, drink, and tobacco.
It can also be used in some soaping and incense flavors.
It can also be used as pharmaceutical intermediates.
Cinnamon oil is used widely as spice and flavoring in foods, beverages, pharmaceuticals.
You can also extract cinnamaldehyde from cinnamon oil, and can further synthesize cinnamic alcohol and other spices.
For more chemical products, you may contact us by sending email.