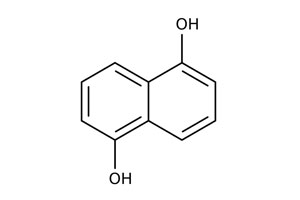 1,5-Dihydroxy naphthalene| CAS 83-56-7
---
CAS No.: 83-56-7
EINECS No.: 201-487-4
Molecular Formula: C10H8O2
Product Information of 83-56-7
---
1,5-Dihydroxy naphthalene (CAS 83-56-7) is the important intermediate of acid mordant black 9, it is also widely used in the production of other dyes. The intermediate is obtained by sulfonation and alkali fusion of refined naphthalene. Soluble in ether and acetone, slightly soluble in alcohol and acetic acid, insoluble in water, insoluble in benzene and petroleum ether.
Product Name: 1,5-Dihydroxy naphthalene
Synonyms: 1,5-Dihydroxynaphthalene; Naphthalene-1,5-diol; 1,5-Naphthalenediol
Molecular Weight: 160.17 g/mol
Appearance: gray white powder
Purity: ≥98.5%
Melting Point: 256-258 °C
Insoluble Matters: ≤0.1%
Moisture: ≤1.0%
Applications: Used in organic synthesis, dye intermediates, pharmaceutical intermediates, photographic industry.
For more chemical products, you may contact us by sending email.