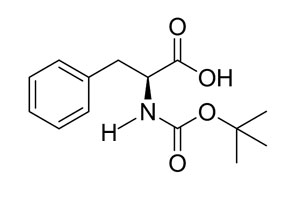 BOC-L-phenylalanine | CAS 13734-34-4
---
CAS No.: 13734-34-4
EINECS No.: 237-305-5
Molecular Formula: C14H19NO4
Product Information
---
Product Name: Boc-L-phenylalanine
Synonyms: Boc-Phe-OH; boc-phe; BOC-L-Phe-OH; N-Boc-L-phenyl alanine; N-BOC-L-PHENYLALANINE; N-T-BOC-L-PHENYLALANINE; N-T-BUTOXYCARBONYL-L-PHENYLALANINE; N-TERT-BUTYLOXYCARBONYL-DL-PHENYLALANINE; L-Phenyl-1-13C-alanine, N-t-BOC Derivative; N-(TERT-BUTOXYCARBONYL)-L-PHENYLALANINE; N-[(1,1-Dimethylethoxy)carbonyl]-L-phenylalanine; N-ALPHA-TERT-BUTYLOXYCARBONYL-L-PHENYLALANINE; N-alpha-t-BOC-L-phenylalanine; N-ALPHA-T-BUTOXYCARBONYL-L-PHENYLALANINE
Molecular Weight: 265.31
Appearance and physical state: White crystals or crystalline powder
Solubility: Insoluble in petroleum ether, soluble in ethyl acetate, ethanol, dichloromethane, tetramethylene oxide, methylbenzene and other organic solvents.
Storage condition: Storage temperature 2-8 °C
Preparation reference of BOC-L-phenylalanine
Generally, BOC-L-phenylalanine is obtained by condensation reaction in aqueous solution or water / methanol mixed solvent, which uses L- phenylalanine and Di-tert-butyl dicarbonate are present in the presence of inorganic bases (sodium carbonate, potassium carbonate or sodium bicarbonate).
Usages of BOC-L-phenylalanine
As a phenylalanine derivative, BOC-L-phenylalanine can be used in enantioselective hydrolysis of amino acid esters. It also acts as an inhibitor of gastric acid secretion.
BOC-L-phenylalanine is an important pharmaceutical synthetic intermediate. Because the preparation process is simple, it is widely used in the synthesis of many kinds of products, such as medicine, biochemistry, food, cosmetics and so on.
BOC-L-phenylalanine is used for biochemical reagents, peptide synthesis.
BOC-L-phenylalanine can be used as an amino acid protective monomer.
For more chemical products, you may contact us by sending email.