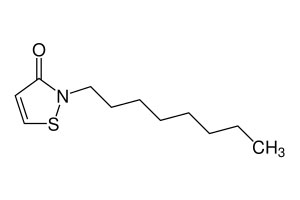 2-Octyl-2H-isothiazol-3-one | CAS 26530-20-1
---
CAS No.: 26530-20-1
EINECS No.: 247-761-7
Molecular Formula: C11H19NOS
Product Information
---
Synonyms: OIT; 2-Octyl-3(2H)-isothiazolone; 2-Octyl-4-isothiazolin-3-one; Octyl-3(2H)-isothiazolone; Kathon 893
Molecular Weight: 213.34
Specifications
| Test Items | Specification |
| --- | --- |
| Appearance | Clear, yellow ropy liquid or crystal |
| Total active ingredient | ≥98.0% |
| Water | ≤1.0% |
| Density @20℃ | 1.03~1.05 g/ml |
| PH value (1% in water) | 4.0~7.0 |
Application: 2-Octyl-2H-isothiazol-3-one is suitable for these industries like oil, plastic, building materials, leather, paint, textile printing and dyeing areas, the function is to protect against mildews.
Performance characteristics
Broad-spectrum and long-lasting. OIT demonstrates an excellent bactericidal effect.
Low toxicity, easy to operate, and it can be added at any production step.
Applicable in the medium of the pH value in a range of 5 to 9.
Good uniformity of dispersion and thermal stability,  contain no VOC.
Not combustible and easy to transport and use.
Stable in the intense ultraviolet or acid rain environment.
For more chemical products, you may contact us by sending email.