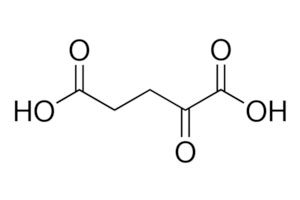 2-Ketoglutaric acid | CAS 328-50-7
---
CAS No.: 328-50-7
EINECS No.: 206-330-3
Molecular Formula: C5H6O5
Product Information of 2-Ketoglutaric acid
---
2-Ketoglutaric acid is one of two kinds of ketone derivatives of glutaric acid. Alpha-ketoglutarate is an important biological compound. It is a product of glutamic acid deamination and is an intermediate product of the three carboxylic acid cycle.
Product Name: 2-Ketoglutaric acid
Synonyms: 2-Oxoglutaric acid; 2-Oxopentanedioic acid ; alpha-Ketoglutaric acid; α-Ketoglutaric acid
Molecular Formula: C5H6O5
Molecular Weight: 146.10 g/mol
CAS No.: 328-50-7
EINECS No.: 206-330-3
Appearance and Physical State: White fine crystalline powder
Melting Point: 113.5 °C
Upstream Raw Material: Succinic acid
Water Solubility: 2-Ketoglutaric acid is easy to dissolve in water, alcohol, and extremely difficult to dissolve in ether.
Usage: 2-Ketoglutaric acid can be used as ingredients of sports nutrition beverage, raw materials of medicine and health products.
For more chemical products, you may contact us by sending email.