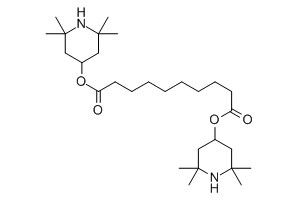 Light Stabilizer 770 | CAS 52829-07-9
---
CAS No.: 52829-07-9
EINECS No.: 258-207-9
Molecular Formula: C28H52O4N2
Product Information of Light Stabilizer 770 (Hindered Amine Light Stabilizer 770)
---
Product Name: Light Stabilizer 770
Molecular Weight: 480.73 g/mol
Synonyms: Bis (2,2,6,6-tetramethyl-4-Piperidinyl) sebacate; Hindered Amine Light Stabilizer 770; HALS 770; Photo-stabilizer 770; Light stability agent 770; UV-770; Photo-stabilizer HS-770; Sanol LS 700
Related Categories: Stabilizers; light stabilizer
Specifications of Light Stabilizer 770 (Hindered Amine Light Stabilizer 770)
| Items | Specifications |
| --- | --- |
| Appearance | White or pale yellow crystalline powder |
| Volatiles | ≤ 0.2% (105 °C, 2h) |
| Luminousness | 425 nm≥98%, 500 nm≥99% |
| Purity | ≥99% |
| Melting point | 81-85°C |
| Ash content | ≤ 0.1% |
Properties of Light Stabilizer 770 (CAS 52829-07-9)
Light stabilizer 770 is white or yellowish crystalline powder, soluble in benzene, chloroform, methanol, ethanol, ether and other organic solvents, insoluble in water.
Applications of Light Stabilizer 770 (CAS 52829-07-9)
Light stabilizer 770 (HALS 770) is a low molecular product, has good compatibility with most polymers and has synergistic effects with antioxidants and UV absorbers. Light stabilizer 770 is mainly used as a high-efficiency hindered amine light stabilizer, suitable for polypropylene, polyethylene, ABS resin and polyurethane, etc.
Storage and Transportation of Light Stabilizer 770 (Chimassorb 770)
25 kg/drum with inner plastic bag. The product should be kept at dry, away from light, under cool condition and under 30°C.
For more chemical products, you may contact us by sending email.