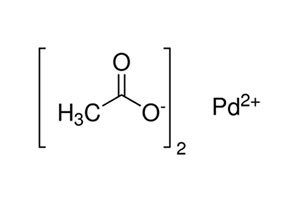 Palladium(II) acetate | CAS 3375-31-3
---
CAS No.: 3375-31-3
EINECS No.: 243-333-9
Molecular Formula: Pd(C2H3O2)2
Product Information
---
Product Name: Palladium(II) acetate
Synonyms: 3375-31-3; Palladium diacetate; Palladium acetate; Diacetoxypalladium; Bis(acetato)palladium; Pd(acetate)2
Molecular Weight: 224.508 g/mol
Appearance: Reddish-brown crystalline powder
Assay(Pd): ≥47.0%
Package: 500g /PVC bottle
Solubility: Insoluble in water, soluble in benzene, toluene and acetic acid. Slowly decomposed in ethanol solution.
Storage: Sealed then kept in normal temperature place.
Use:
Palladium(II) acetate can be used as catalysts, which catalyze effectively olefin aromatization(Heck reaction).
Cross coupling reaction catalysis.
Catalysts for the synthesis of a variety of palladium compounds and catalysts.
For more chemical products, you may contact us by sending email.