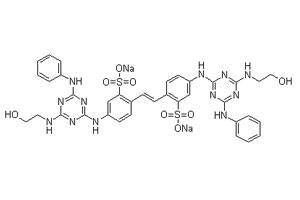 Optical Brightening Agent VBL | CAS 12224-06-5
---
CAS No.: 12224-06-5
EINECS No.:
Molecular Formula: C36H34N12Na2O8S2
Product Information of Optical Brightening Agent VBL
---
Product Name: Optical Brightening Agent VBL
Molecular Mass: 872.84 g/mol
Synonyms: Disodium 4,4′-bis[(4-anilino-6-hydroxyethylamino-1,3,5-triazin-2-yl)amino]stilbene-2,2′-disulphonate; Fluorescent brightener 85; FBA 85
Reference Standard: GB/T 10661-2004
Specifications of fluorescent brightener 85
| Items | Specifications |
| --- | --- |
| Appearance | light yellow solid |
| Intensity | 100, 150 |
| Water content | ≤ 5.0% |
| Insoluble impurities | ≤ 0.5% |

Properties of optical brightening agent VBL
Dissolve in 80 times soft-water, resistant hard-water to 300ppm.
Belong to anion, alkali resistance, fluorescent brightener 85 can bath with anion surface-active agent.
Not fastness to copper iron, fluorescent brightener 85 can not bath with cationic dyestuff and surface-active agent.
Applications of optical brightening agent VBL
For brightening of bleached cotton or light-colored fabrics, fluorescent brightener 85 also used as whitener in paper and detergent.
Storage and transportation
Keep from light, store in cool, ventilative place. Prevent from collision and insolation when transportation.