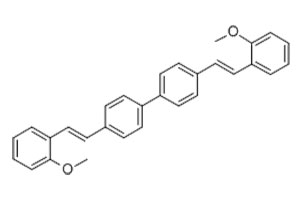 Optical Brightening Agent FP-127 | CAS 40470-68-6/164908-53-6
---
CAS No.: 40470-68-6/164908-53-6
EINECS No.: 254-935-6
Molecular Formula: C30H26O2
Product Information of Optical Brightening Agent FP-127
---
Product Name: Optical Brightening Agent FP-127
Molecular Mass: 418.53 g/mol
Synonyms: 4,4′-Bis(2-methoxystyryl)-1,1′-biphenyl; 1,1′-Biphenyl-4,4′-bis[2-(methoxyphenyl)ethenyl]; optical whitening agent FP; Optical Brightening Agents CBS-127; Fluorescent Brightener 378; FBA 378
Specifications of optical brightening agent FP-127
| Items | Specifications |
| --- | --- |
| Appearance | Light yellow or milk white crystalline powder |
| Purity | ≥ 99% |
| Melting point | 219-221 ℃ |
| Volatile content | ≤ 0.50% |
| Ash content | ≤ 0.10% |
Properties of optical brightening agent FP-127
Insoluble in water and ordinary solvents, no odor, having stable performance and strong fluorescence.
Applications of optical brightening agent FP-127
Fluorescent brightener 378 (optical brightening agent FP-127) has very good whitening effect on various kinds of plastics and their products, especially on the products of plastics such as PVC and PS. It has extra ideal whitening and brightening effects on artificial leathers. No yellowing and discoloring will occur on the products whitening by this whitening agent even if they are stored for a long time.