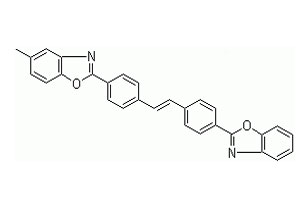 Optical Brightening Agent KSN | CAS 5242-49-9
---
CAS No.: 5242-49-9
EINECS No.: 226-044-2
Molecular Formula: C29H20N2O2
Product Information of Optical Brightening Agent KSN
---
Product Name: Optical Brightening Agent KSN
Molecular Mass: 428.48
Synonyms: 5-Methyl-2,2′-(vinylenedi-p-phenylene)bis-benzoxazole; Fluorescent Brightener KSN; Fluorescent brightener 368
Specifications of Optical Brightening Agent KSN
| Items | Specifications |
| --- | --- |
| Appearance | Bright yellow crystalline powder |
| Purity | ≥ 99% |
| Melting point | ≥ 295 °C |
| Volatile content | ≤ 0.50% |
| Ash content | ≤ 0.10% |
Properties of Optical Brightening Agent KSN
Fluorescent brightener 368 has a good resistance to high temperature as well as excellent resistance to light. It can be used for high temperature process.
Applications of Optical Brightening Agent KSN
Fluorescent brightener 368 is suitable for the brightening of polyester, polyamide and polyacrylonitrile fibre, and for the brightening of plastics as well.