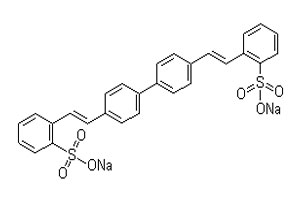 Optical Brightening Agent CBS-X | CAS 27344-41-8
---
CAS No.: 27344-41-8
EINECS No.: 248-421-0
Molecular Formula: C28H20Na2O6S2
Product Information of Optical Brightening Agent CBS-X
---
Product Name: Optical Brightening Agent CBS-X
Molecular Mass: 562.56
Synonyms: Fluorescent brightener CBS-X; Fluorescent Brightener 351; 2,2′-([1,1′-Biphenyl]-4,4′-diyldi-2,1-ethenediyl)bis-benzenesulfonic acid disodium; Brightener BR 49; FBA 351
Reference Standard: HG/T 3726-2010
Specifications of optical brightening agent CBS-X
| Items | Specifications |
| --- | --- |
| Appearance | Pistachio granule |
| Smell | Odorless |
| Max absorption wavelength | 348 nm ± 1 nm |
| 1% extinction coefficient | 1105-1181 |
| Color | Blue light/Red light |
Properties of optical brightening agent CBS-X
Optical brightener CBS-X (Fluorescent brightener 351) is twin cinnamene biphenyl, it is the most excellent brightener used in detergent industry. Solvable in water. It has better whiten effect on cotton cloth as diphenylene twin tris triazine derivatives, and has well optical blue color monitor, dissolve and disperse. It has extremely high stability with hypo-chloride sodium, it is one bleaching resistance optical brightener.
Applications of optical brightening agent CBS-X
Optical Brightening Agent CBS-X (Fluorescent brightener 351) can be used in synthetic detergent, soap, and other detergent industries.
Storage and transportation
Keep from light, store in cool, ventilative place. Prevent from collision and insolation when transportation.