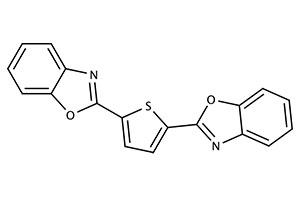 Optical Brightening Agent EBF | CAS 2866-43-5/12224-41-8
---
CAS No.: 2866-43-5/12224-41-8
EINECS No.: 220-685-1
Molecular Formula: C18H10N2O2S
Product Information of Optical Brightening Agent EBF
---
Product Name: Optical Brightening Agent EBF
Molecular Weight: 318.35
Synonyms: 2,2′-(2,5-Thiophenediyl)bis-benzoxazole; 2,5-Bis(2-benzoxazolyl)thiophene; 2,5-Di(benzoxazol-2-yl)thiophene; optical whitening agent EBF; Fluorescent brightener 185; FBA 185
Specifications of Optical Brightening Agent EBF
| Items | Specifications |
| --- | --- |
| Appearance | Light yellow crystal powder |
| Purity | ≥ 99% |
| Melting point | 216-220 °C |
| Volatile compounds | ≤ 0.50% |
Properties of Optical Brightening Agent EBF
Fluorescent brightener 185 does not dissolve in water but in organic solvent and in concentrated acid and gives off bright colored blue fluorescent light. Its maximum absorptive wave length is 367 nm(DMF) , and its maximum emissive wave length is 429 nm.
Applications of Optical Brightening Agent EBF
Fluorescent brightener 185 is mainly used in making commercialized bright EBF, and can also be used in various polyolefine plastics, ABS engineering plastics and in organic glass to make their color brighter.