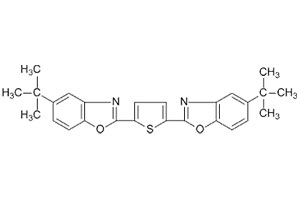 Optical Brightening Agent OB | CAS 7128-64-5/12224-40-7
---
CAS No.: 7128-64-5/12224-40-7
EINECS No.: 230-426-4
Molecular Formula: C26H26N2O2S
Product Information of Optical Brightening Agent OB
---
Product Name: Optical Brightening Agent OB
Molecular Weight: 430.56
Synonyms: 2,5-bis-(5-ter-butyl-benzoxazolyl-)thiophene; Fluorescent brightener OB; Fluorescent brightener 184
Specifications of Optical Brightening Agent OB
| Items | Specifications |
| --- | --- |
| Appearance | Light yellow or milk white powder |
| Purity | ≥ 99% |
| Melting point | 201-205 °C |
| Water content | ≤ 0.50% |
| Ash content | ≤ 0.10% |
Properties of Optical Brightening Agent OB
Its decomposition temperature is larger than 220 ℃. Fluorescent brightener 184 is hard to dissolve in water. It dissolves in paraffin fat, miner oil, wax and common organic solvents. The hue of the fluorescent light is blue light. The wave length of the maximum absorptive light is 375 nm (ethyl alcohol).
Applications of Optical Brightening Agent OB
Fluorescent brightener 184 can be used in whitening and brightening PVC, polystyrene, polyethylene, polypropylene, thermoplastic plastic, ABS, cellulose acetate fiber, coating, paint, ink, etc.