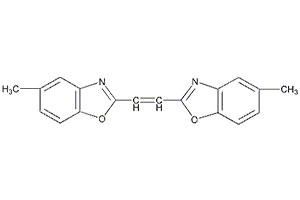 Optical Brightening Agent PF | CAS 1041-00-5/12224-12-3
---
CAS No.: 1041-00-5/12224-12-3
EINECS No.: 213-866-1
Molecular Formula: C18H14N2O2
Product Information of Optical Brightening Agent PF
---
Product Name: Optical Brightening Agent PF
Molecular Weight: 290.32
Synonyms: 2,2′-(1,2-Ethenediyl)bis[5-methylbenzoxazole]; Fluorescent Whitener DT; Fluorescent brightener 135
Specifications of Optical Brightening Agent PF
| Items | Specifications |
| --- | --- |
| Appearance | Light yellow powder crystal |
| Purity | ≥ 99% |
| Melting point | 187-189 °C |
| Water content | ≤ 0.50% |
| Ash content | ≤ 0.10% |
Properties of Optical Brightening Agent PF
Insoluble in water, soluble in dimethyl benzene, Dichlorobenzene, DMF, dimethyl phthalate and dibutyl phthalate. Fluorescent brightener 135 has good resistance to acid and alkali.
Applications of Optical Brightening Agent PF
Fluorescent brightener 135 is suitable for whitening polyester fiber, polyamide fiber and acetate fiber, or synthetic fiber-cotton, -wool or -silk blend fabric. Light-colored or printed fabric treated with PF looks brighter and more pleasant to eye. It is suitable for and having excellent whitening and brightening effect on almost all of the existing plastics and their products.